26.10.17 – Naples | Faceing The Breast | XIV International Course of Plastic Surgery
XIV INTERNATIONAL COURSE OF PLASTIC SURGERY
Faceing The Breast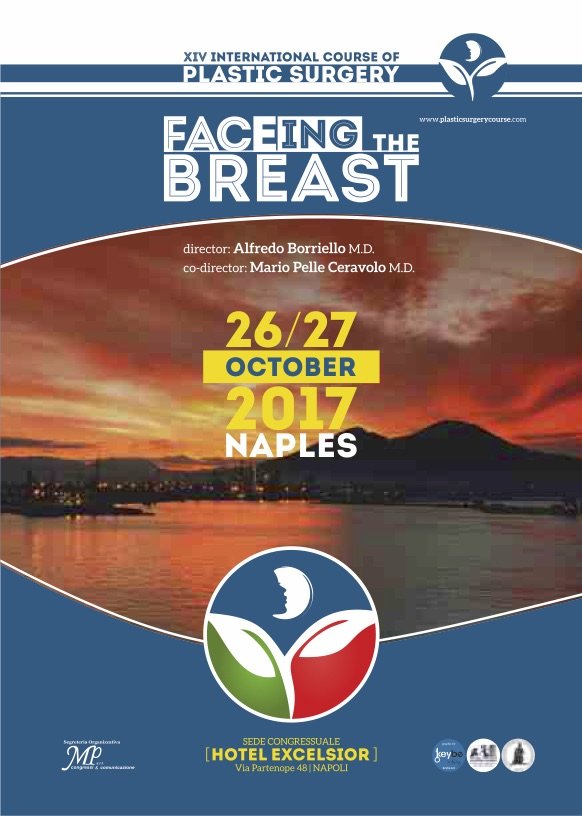 It's a great pleasure to invite you to participate at the XIV International Course of Plastic Surgery in Naples. Since its conception more than ten years ago this meeting was one of the most attended courses in Naples and in Italy with the participation of the best international plastic surgeons. The 2017 meeting will focus on the evidence, standards, and controversies in two "Hot" Topics: Facial Rejuvenation. Aesthetic Breast Surgery.
The course, with didactic lecture and video presentations, is designed to stimulate debate on choices, explore controversies, new techniques, and long-term results with the principal international and national experts. New sessions, controversies, and cross-fire debates will be introduced this year to increase interaction with the audience. There will be an interesting cultural and social program besides the scientific events. Naples, famous for her history, architecture and beautiful places as Pompei, Capri, Sorrento and fine cuisine will be a special setting for this meeting.
Come and join us in Naples on October 2017.
Sincerely yours,
Alfredo Borriello M.D.
Director
INTERNATIONAL FACULTY
Saban Yves – FRANCE
Nuri Celik – TURKEY
Frank Lista – CANADA
Constantin Stan – ROMANIA
Nigel Mercer – GREAT BRITAIN
Patrick Mallucci – GREAT BRITAIN
Alberto Rancati – ARGENTINA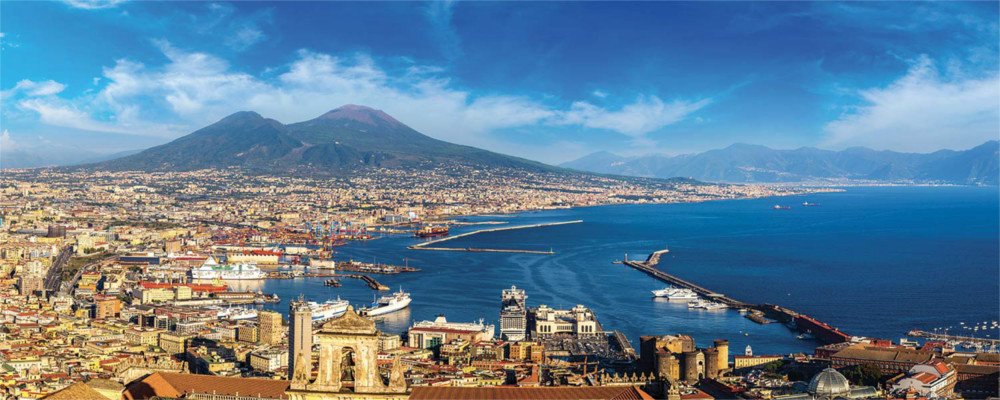 PROGRAM
THURSDAY
OCTOBER 26
8.00 – 8.30
Registration
8.45 – 10.45
Welcome and opening remarks:
A. Borriello – M. Pelle Ceravolo
8.30 – 8.45
Panel: Rhinoplasty (12 m)
President: F. D'Andrea
Moderators: P. Palma – V. Pucci
– Nose with nostrils defects – C.Martino
– Modern concepts in treating the crooked nose – M. Pascali
– Open vs closed: different techniques or evolutionary opportunity – R. d'Alessio
– Rhinoplasty: proportions and artistic insight – S. Bruschi
– Dome interruption: when, why and how – Changing trends of tip aesthetics. Time for changing surgeon's paradigms? – P. Palma
– 5 " Key" Grafts in the secondary Rhinoplasty Surgery – A. Borriello
– Secondary short nose – S. Sciuto
Discussion (15 m)
Invited:
F. Ciccarelli, F. De Angelis, G. De Longis, G. Di Caprio, R. Grella, C. Pellegrini, A. Stanziola, G.P. Tartaro
10.45 ‐ 11.00
Coffee break
11.00 ‐13.30
Panel: Principles of modern blepharoplasty. (15 m)
President: G. Nicoletti
Moderators: M. Pelle Ceravolo – V. Cervelli
Keynote lecture: Lower Blepharoplasty: Fat Preservation, Repositioning and Lateral Canthoplasty for Optimal Results – N. Celik (20m)
– Tear trough: which are the options of treatments – G. Campiglio
– How to prevent complication in lower eyelid blepharoplasty – F. Saccomanno
– Correction of the eyelid retraction – F. Quaranta Leoni
– The use of spacers in difficult and secondary blepharoplasty – M. Pelle Ceravolo
– Surgical solution for upper blepharoplasty complication – N. Celik
– Lower lid septal re‐set ‐ outcomes and complications over 2 decades – N. Mercer
Discussion (20 m)
Invited :
S. Brongo, L. Gagliardi, E. Grella, G. Noschese, C. Petroccione, L. Soreca, V. Volpe, M. Zamparelli
13.30 – 14.30
Lunch
14.30 ‐ 16.45
Panel: Breast Augmentation (15 m)
President: F. Saccomanno
Moderators: A. Paci – A. Borriello
Keynote lecture: Composite approach in breast augmentation ‐ A. Rancati (20 m)
– Breast augmentation: The problem of constricted poles – P. Berrino
– Is time to start re‐thinking sub-pectoral breast augmentation – F. Lista
– Planning of the IMF in breast augmentation ‐ the `ICE' principle – P. Mallucci
– Useful tips to solve specific situations in breast augmentation – M. Pelle Ceravolo
– Mastoplasty with "slip–sliding" technique in difficult cases – S. Bruschi
– The importance of assessments and 3D simulation regarding breast augmentation – G. Fera
– Textured breast implants ‐ a voyage or storm seas – N. Mercer
Discussion(15 m)
Invited:
R. Eccellente, J. Grimaldi, F. Iazzetta, F. Lino, B. LoSapio, M. Ippolito, M.S. Scioli, P. Ziccardi
16.45 – 17.00
Coffee Break
17.00 ‐ 19.00
Panel: Complications in mastoplasty (12 m)
Presidents: R. D'Alessio
Moderators: S. Bruschi – G. Campiglio
Keynote Lecture: Lemon Juice and Optimism Bias: How Surgeons Make Mistakes – F. Lista (20 m)
– Lower breast pole contour irregularities – M. Pelle Ceravolo
– Capsular contracture: chapter completed – D. Spirito
– Avoiding complications in breast augmentation – P. Mallucci
– Breast implant – explantation – A. Rancati
– Secondary breast augmentation: the use of capsular flaps – P. Berrino
– The use of T‐ loop mesh in secondary breast surgery – V. Argenzio
– Breast implants comparison: experience-based clinical review on safety – M. Saturno
Discussion (15 m)
Invited:
A. Amaturo, A. Apolito, S. Marlino, V. Minieri, R. Nunziata E. Pagnozzi, A. Romano, S. Ruiz
19.00
Opening ceremony
20.30
Faculty Dinner
FRIDAY
OCTOBER 27
8.30 ‐ 10.30
Panel: What works in facial rejuvenation (12 m)
President: A. Caggiati
Moderators: L. Piovano – C. Bernardi
– Photodynamic Therapy: treatment of the face and neck – P. Forgione
– Upper eyelid filling approach for eye rejuvenation – F. Romeo
– Refinements in cosmetic and reconstructive lipo-structures: the natural ADSC enrichment – A. Caggiati A. Caggiati
– Fat Grafting During Face Lift and Blepharoplasty: Principles and Arts – N. Celik
– Facial rejuvenation of the lower third with surgical RF – P. Rovatti
– The two side of resurfacing: laser erbium 1565 ‐ laser Co2 1060nm – A. Rusciani
– Threads: from biostimulation to the traction – L. Piovano
– Bidirectional threads with polylactic acid: characteristics and new techniques – R. Russo
Discussion (15 m)
Invited:
V. Accardo, B. Castelli, A. Cuozzo, V. Guerra, I. La Rusca,
10.30 – 10.45
Coffee Break
10.45 ‐ 13.15
Panel: Critical elements and technique in facelift surgery (15m)
President: P. Palombo
Moderators: M. Pelle Ceravolo – F. Saccomanno
Keynote lecture: Facial danger zones in practice – Y. Saban (20m)
– Endomacslift: in double layer – P. Canta
– Macs lift: advantages and limitations – A. Paci
– Composite lifting: what're the innovations – D. Spirito
– Facial lifting and retaining ligaments – S. Bruschi
– Neck rejuvenation: conclusions after 35 years of cogitations – M. Pelle Ceravolo
– Midface Lift: How to Make It Work – N.Celik
– The Bi‐Directional short and full scar facelift ‐ outcomes and refinements over 2 decades – N. Mercer
Discussion (20 m)
Invited:
S. Ascione, F. Bevilacqua, G. Capone, D. D'Angelo, C. D'Antonio, M. D'Antonio, A. Fonzone, S. Langella, S. Smeraglia
13.15 ‐ 14.15
Lunch
14.15 – 15.30
Video session: Face and breast (10 m)
President: F. Pignatelli
Moderators: A. Borriello – P. Canta
Participants: A. Rancati – C. Bernardi – F. Lista – Y. Saban ‐ P. Palma – D. Riitano
15.30 – 17.45
Panel: Mastopexy and reduction (15 m)
President: C. Rubino
Moderators: P. Berrino – A. Gubitosi
Keynote Lecture: C. Stan (20 m)
Additive mastopexy: progressive approach for a short scar – F. Saccomanno
– Maintaining long-term upper pole fullness in mastoplasties – A. Rancati
– Personal Solutions for Ptotic Breasts – N. Celik
– The Mysteries of Mastopexy: How to Get it Right – F. Lista
– A cognitivist approach to breast ptosis – M. Pelle Ceravolo
– Tuberous breast – R. D'Alessio
– Augmentation Mastopexy: are the Lightweight Breast Implants
the ultimate solution? – G. Cricrì
Discussion (15 m)
Invited:
G. Aliberti, A. Cappelli, M. Ciliberti, G. Ferraro, M. Gioia, G. Pitruzzella, A. Rotondo, S. Rosso, G. Sposato
(Open coffee)
17.45 ‐ 19.00
Roundtable: Hot topic in mastoplasty: Implants Texture, Late seroma, ALCL (10 m)
Moderators: M. Pelle Ceravolo – A. Borriello
Participants: A. Rancati, P. Mallucci, F. Lista, N. Mercer, N. Celik, P. Berrino
19.30
Closing remarks – Adjourn