World Experts Meeting 2017 | Barcelona | 20.10.17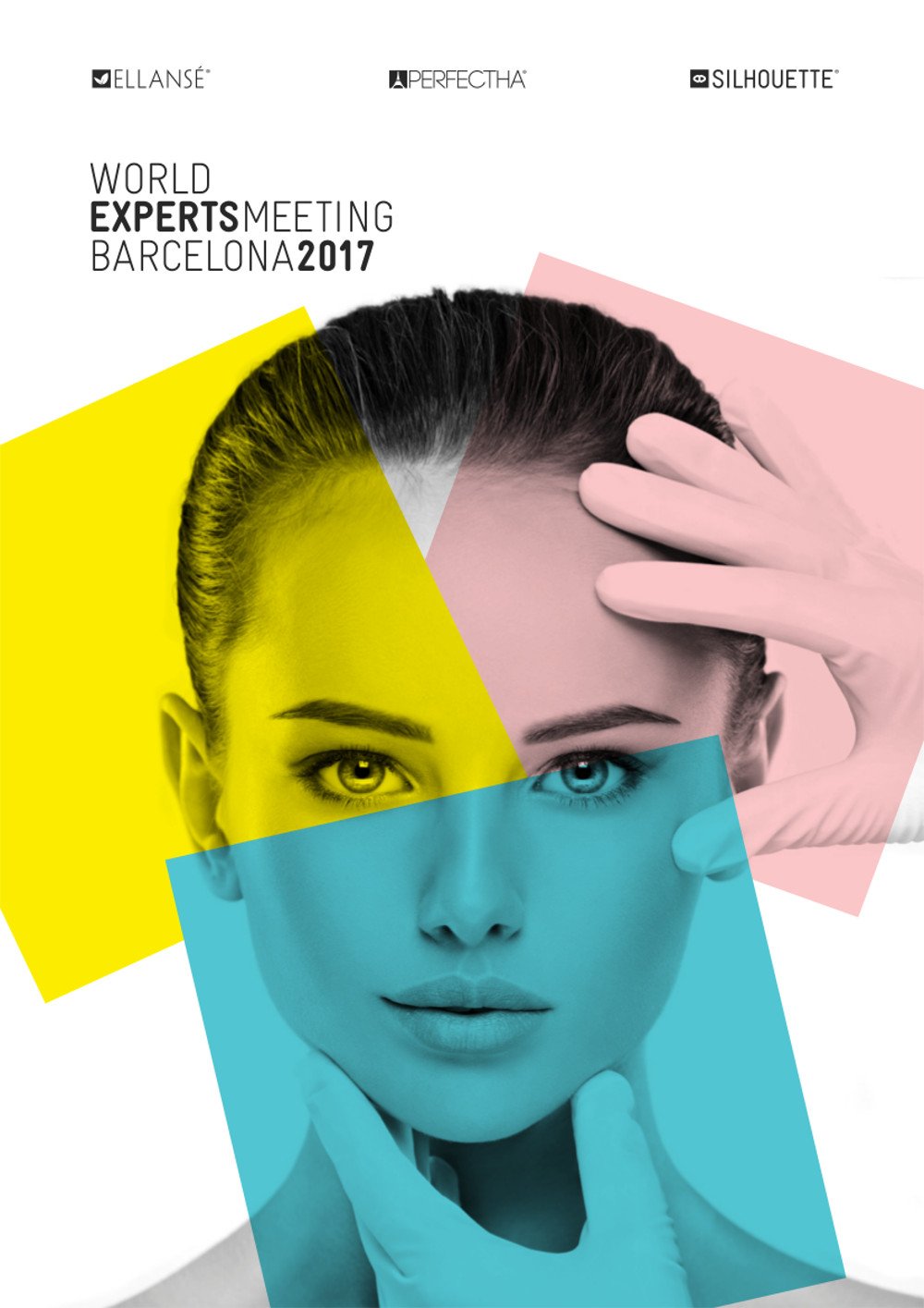 World Experts Meeting 2017
20th – 21st October 2017
Palau de Congressos de Catalunya
Avinguda Diagonal
661-671 08028 Barcelona, Spain
Dear Colleagues and Friends,
After another year, I am delighted to announce that the WEM 2017 is being held on 20th – 21st October 2017.
This year, as a result of a number of requests, not only will we be demonstrating a facial-rejuvenation procedure using re-absorbable sutures with cones, but also presenting other products that perfectly complement sutures in facial rejuvenation, such as collagen inductor and hyaluronic acid products.
This is why we are dividing the WEM into 4 sections of equal significance, to enable us to dedicate the time necessary to give clear explanations of the key functions of the products as well as how physicians have found that they can be combined.
There will also be several session-leaders, who are specialists in each area, as well as a variety of speakers from around the world, with whom we will work with as we always do on our courses, in an active way, with all those present participating via interactive systems.
I look forward to welcoming you, as I do each year, not only for the opportunity of acquiring new knowledge to enrich our range of professional treatments, but also to enjoy Barcelona's renowned cuisine and beautiful autumn climate.
Javier de Benito, MD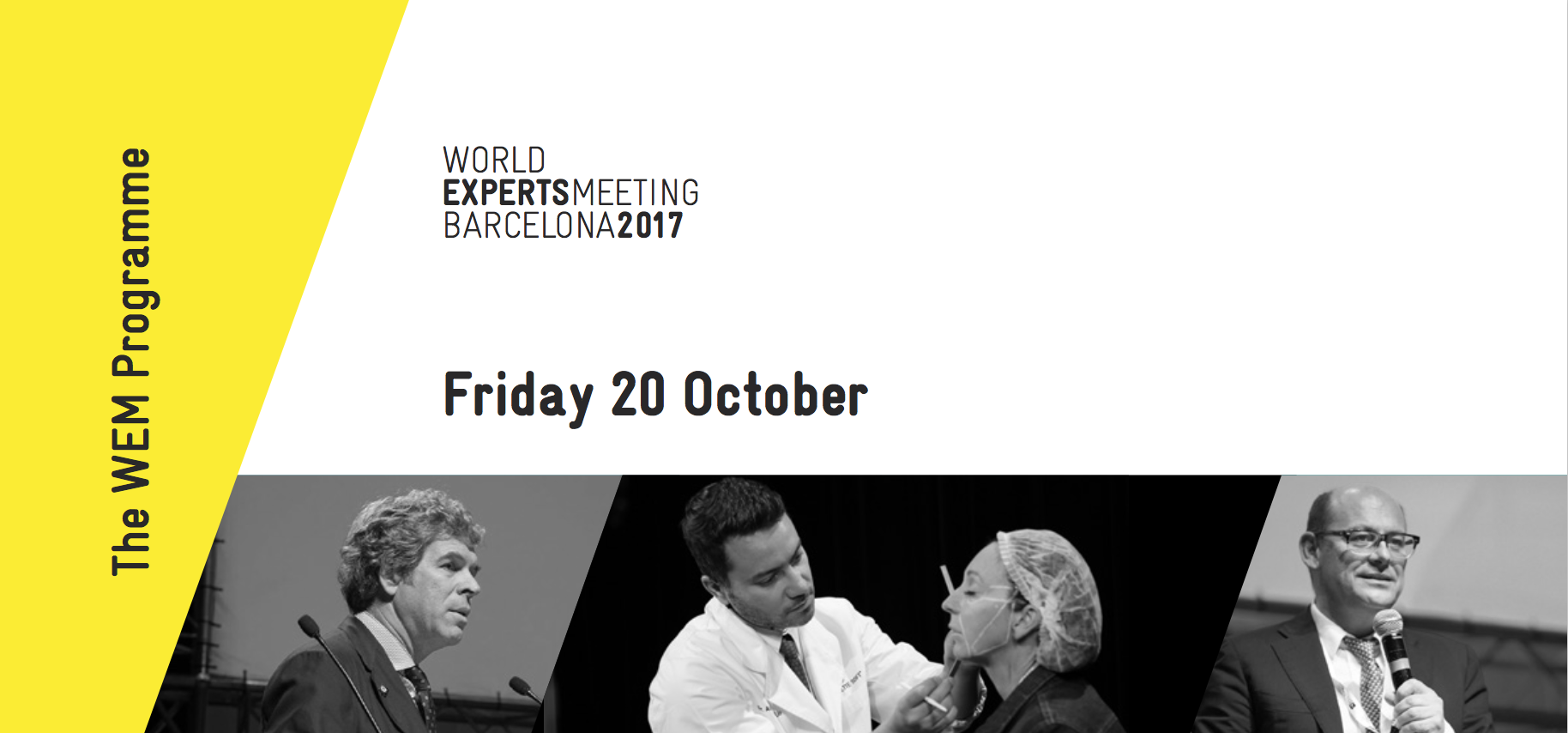 08.00 – 09.00
Registration
09.00 – 09.05
Welcome by Dr. J. de Benito
09.05 – 09.45
The five pillars of natural beauty by Dr. E. Essayagh
09.45 – 10.30
Anatomy of the face: Layers, Compartments & Units by Dr. M. Beustes-Stefanelli
10.30 – 10.40
ELLANSÉ – Innovation for an optimal filler by Dr. P. Nicolau
10.40 – 10.50
What makes ELLANSÉ a biologically safe and unique product? by M-O. Christen
10.50 – 11.00
ELLANSÉ, for a regeneration of beauty for face and hands by Dr. L. Piovano
11.00 – 11.10
Efficacy, satisfaction, and duration of effects of ELLANSÉ by Dr. M. Moers-Carpi
11.10 – 11.20
ELLANSÉ, collagenesis and my experience with skin quality improvements by Dr. J. Meadows
11.20 – 11.50
Full face concept for natural looking and regenerative beauty
by Dr. F. de Melo, Dr. K. Hong and Dr. F. Vercesi
11.50 – 12.20
Panel discussion with Dr. F. Vercesi and Dr. F. de Melo
COFFEE BREAK
12.40 – 12.50
Why ELLANSÉ instead of hyaluronic acid (HA)? by Dr. H. Galadari
12.50 – 13.00
Why ELLANSÉ instead of calcium hydroxylapatite (CaHA)
and poly-L-lactic acid (PLLA)? by Dr. S. Ghannam
13.00 – 13.10
The art of balancing syringe numbers and treatment goals by Dr. S. Lin
13.10 – 13.20
Panel discussion
13.20 – 13.30
My experience with ELLANSÉ and case series roundtable by Dr. A. Harb
13.30 – 14.00
Case series roundtable by Dr. G. Cohen, Dr. S. Converset, Dr. I. Lopez and Dr. D. Topchian
LUNCH
15.00 – 15.05
Introduction by Dr. J. de Benito
15.05 – 15.20
Anatomy applied to suspension sutures by Dr. D. Humzah
15.20 – 15.30
Suspending and regenerative threads: Landscape and added value by Dr. K. Hong
15.30 – 15.40
SILHOUETTE mode of action by Dr. L. Totton
15.40 – 15.50
Mechanical features of SILHOUETTE: scientific evidence by Y. Payan
15.50 – 16.00
SILHOUETTE: Where physics and biology meet by M-O. Christen
16.00 – 16.10
Superiority of the cone technology demonstrated in cadavers by Dr. Z. P. Lorenc
16.10 – 16.20
SILHOUETTE safety profile by Dr. P. Nicolau
16.20 – 16.30
Guidelines on patterns and multiple sutures usage by Dr. Z. P. Lorenc
16.30 – 16.40
My cases using multiple suspension sutures by Dr. A. Carrijo
COFFEE BREAK
17.10 – 17.50
Full face treatment – Live demo by Dr. A. Carrijo
17.50 – 18.00
Tips to avoid complications by Dr. R. Russo
18.00 – 18.10
Midface volumization by Dr. S. Weinkle
18.10 – 18.20
Redefining the contours of the jawline by Dr. E. Essayagh
18.20 – 18.30
Treating neck and eyebrow with SILHOUETTE SOFT® by Dr. H. Nassar
18.30 – 18.40
My experience with SILHOUETTE SOFT as a complement to a facelift by Dr. R. Pizzamiglio
18.40 – 18.50
Long-term follow-up of SILHOUETTE treatment by Dr. R. Russo
18.50 – 18.55
One-year follow-up study. Preliminary results by Dr. M. Nestor
18.55 – 19.05
My experience with SILHOUETTE and case series roundtable by Dr. J. Few
19.05 – 19.35
Case series roundtable with Dr. B. Beltrán, Dr. A. Benzaquén,
Dr. N. Demosthenous, Dr. R. Gupta, Dr. C. Lloreda, Dr. A. Young
19.35 – 19.55
Panel discussion
19.55 – 20.00
Conclusion by Dr. J. de Benito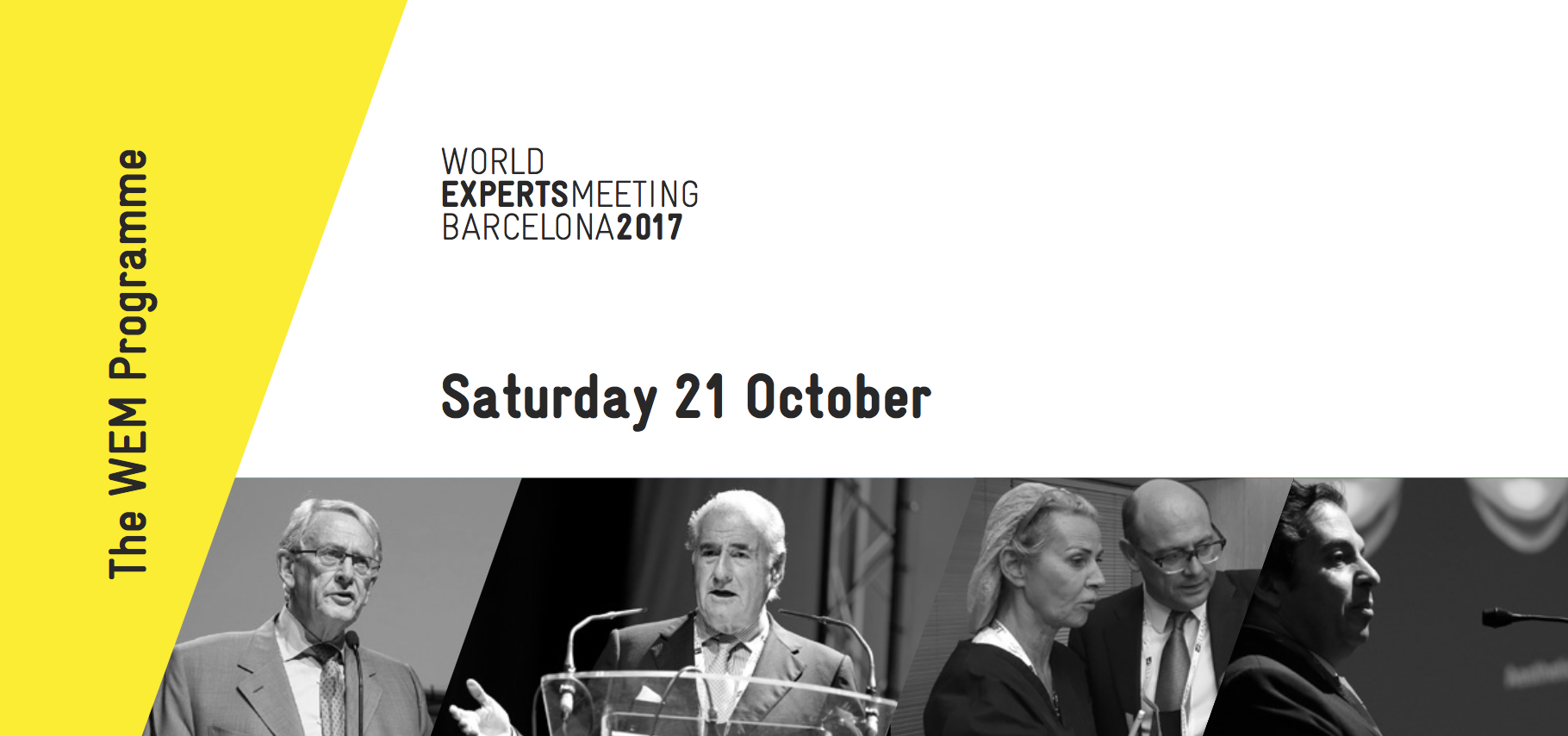 09.00 – 09.10
Introduction by Dr. J. Jung
09.10 – 09.20
The E-BRID technology: multi-structured networks providing ease of injection
and long-lasting effect by Dr. S. Malaise
09.20 – 09.25
PERFECTHA product safety profile by M-O. Christen
09.25 – 09.35
Update on clinicals by Dr. A. da Costa
09.35 – 10.00
Specific treatment protocols for male rejuvenation with live demo by Dr. G. Beilin
Shape the ideal smile:
10.00 – 10.15
• Injection technique with needle – Video by Dr. F. Vercesi
10.15 – 10.30
• Injection technique with cannula – Live demo by Dr. F. Equizi
10.30 – 10.40
Don't let hands give away your patients' real age by Dr. L. Piovano
COFFEE BREAK
11.10 – 11.15
The rise of combination treatments by Dr. B. Ascher
11.15 – 11.35
Focus on the Asian type:
• How volumetric change could affect the vector of lifting? by Dr. K. Hong
• My experience in combating 5 structures of aging using
dual-action suspension sutures, dermal fillers, bio-stimulators, cryolipolysis,
and energy based devices by Dr. T. Lim
11.35 – 11.50
Focus on Fitzgerald IV type:
• My experience of full-face rejuvenation with SILHOUETTE SOFT, PERFECTHA
and laser by Dr. A. Carrijo
• My experience with SILHOUETTE SOFT and PERFECTHA by Dr. F. Rezende
11.50 – 12.30
Focus on Caucasian type:
• My experience with absorbable suspension sutures, filler and injection lipolysis.
Preliminary results by Dr. S. Zenker
• My experience with ULTHERA® and SILHOUETTE INSTALIFTTM by Dr. H. Waldorf
• My experience of dual lifting: Utilising the synergistic benefits of both SILHOUETTE SOFT
in combination with radio frequency based treatments by Dr. I. Strawford
• Achieving the optimal treatment plan with ELLANSÉ, SILHOUETTE and PERFECTHA
by Dr. F. de Melo
• My cases using combined treatments following Medical Advisory Board guidelines
by Dr. R. García Moro Panel discussion
12.30 – 13.00
Panel discussion
13.00 – 13.30
Personal techniques by Dr. O. Panyanetinad, Dr. F. Tribulato and Dr. F. Vercesi
13.30 – 13.45
Digital strategy for clinics by W. Lewis
13.45 – 14.00
Sinclair is your partner: Sinclair College and social networks at a glance
14.00 – 14.15
Conclusion by Dr. J. de Benito
Our Speakers
DR JAVIER DE BENITO
PLASTIC SURGEON, SPAIN
DR BENJAMIN ASCHER
PLASTIC SURGEON, FRANCE
DR GHISLAINE BEILIN
AESTHETIC DOCTOR, FRANCE
DR BEATRIZ BELTRÁN
AESTHETIC DOCTOR, SPAIN
DR ABRAHAM BENZAQUÉN
AESTHETIC DOCTOR, SPAIN
DR MATTHIEU BEUSTES-STEFANELLI
PLASTIC SURGEON, FRANCE
DR ALIEKSIÉI CORREA CARRIJO
PLASTIC SURGEON, BRAZIL
MARIE-ODILE CHRISTEN
BIOLOGIST & IMMUNOLOGIST, FRANCE
DR GORDON COHEN
AESTHETIC DOCTOR, SOUTH AFRICA
DR SOPHIE CONVERSET
FACIAL PLASTIC SURGEON, FRANCE
DR ADILSON DA COSTA
DERMATOLOGIST, BRASIL
DR FRANCISCO DE MELO
PLASTIC SURGEON, UAE
DR NESTOR DEMOSTHENOUS
AESTHETIC DOCTOR, UK
DR FAB EQUIZI
AESTHETICS PRACTITIONER, UK
DR ERIC ESSAYAGH
MORPHOLOGICAL AND ANTI-AGING MEDICAL DOCTOR, FRANCE
DR JULIUS FEW
PLASTIC SURGEON, USA
DR HASSAN GALADARI
DERMATOLOGIST, UAE
DR RUTH GARCÍA MORO
AESTHETIC DOCTOR, SPAIN
DR SAHAR GHANNAM
DERMATOLOGIST, CANADA
DR RAJAT GUPTA
PLASTIC SURGEON, INDIA
DR AYAD HARB
PLASTIC SURGEON, UK
DR KYUNGKOOK HONG
DERMATOLOGIST, SOUTH KOREA
DR DALVI HUMZAH
PLASTIC RECONSTRUCTIVE & AESTHETIC SURGEON, UK
DR JAE YOON JUNG
DERMATOLOGIST, SOUTH KOREA
WENDY LEWIS
PRESIDENT WENDY & CO LTD, USA
DR TINGSONG LIM
AESTHETIC DOCTOR, MALAYSIA
DR SHANG-LI LIN
DERMATOLOGIST, TAIWAN
DR CARLOS EDUARDO LLOREDA RAMIREZ
PLASTIC SURGEON, COLOMBIA
DR INGRID LÓPEZ
DERMATO-ONCOLOGIST AND SKIN CANCER SURGEON, MÉXICO
DR Z. PAUL LORENC
PLASTIC SURGEON, USA
DR SÉBASTIEN MALAISE
R&D MANAGER SINCLAIR, FRANCE
DR JOHN MEADOWS
HEAD OF DEVELOPMENT IN SINCLAIR, UK
DR MARION MOERS-CARPI
DERMATOLOGIST, GERMANY
DR HANI NASSAR
PLASTIC SURGEON, SAUDI ARABIA
DR MARK NESTOR
DERMATOLOGIST, USA
DR PIERRE NICOLAU
PLASTIC SURGEON, SPAIN
DR ORNKES PANYANETINAD
DERMATOLOGIST, USA
YOHAN PAYAN
TIMC-IMAG LABORATORY, FRANCE
DR LUCA PIOVANO
PLASTIC SURGEON, ITALY
DR ROBERTO PIZZAMIGLIO
PLASTIC SURGEON, SPAIN
DR FLÁVIO REZENDE
PLASTIC SURGEON, BRAZIL
DR ROSALBA RUSSO
SURGEON, ITALY
DR IAN STRAWFORD
AESTHETIC DOCTOR, UK
DR DAVID TOPCHIAN
COSMETIC SURGEON, AUSTRALIA
DR LEAH TOTTON
AESTHETIC DOCTOR, UK
DR FRANCISCO CESAR NASSAR TRIBULATO
PLASTIC SURGEON, BRAZIL
DR FRANCO VERCESI
PLASTIC SURGEON, ITALY
DR HEIDI A. WALDORF
DERMATOLOGIST, USA
DR SUSAN H. WEINKLE
DERMATOLOGIST, USA
DR ARNOLD YOUNG
AESTHETIC DOCTOR, HONG KONG
DR SABINE ZENKER
DERMATOLOGIST, GERMANY