Italo-Brazilian Aesthetic Meeting 2018 | 13-14.09.18
ITALO-BRAZILIAN AESTHETIC MEETING 2018
XV International Course Of Plastic Surgery
13th to 14th September
Royal Hotel | Naples | Italy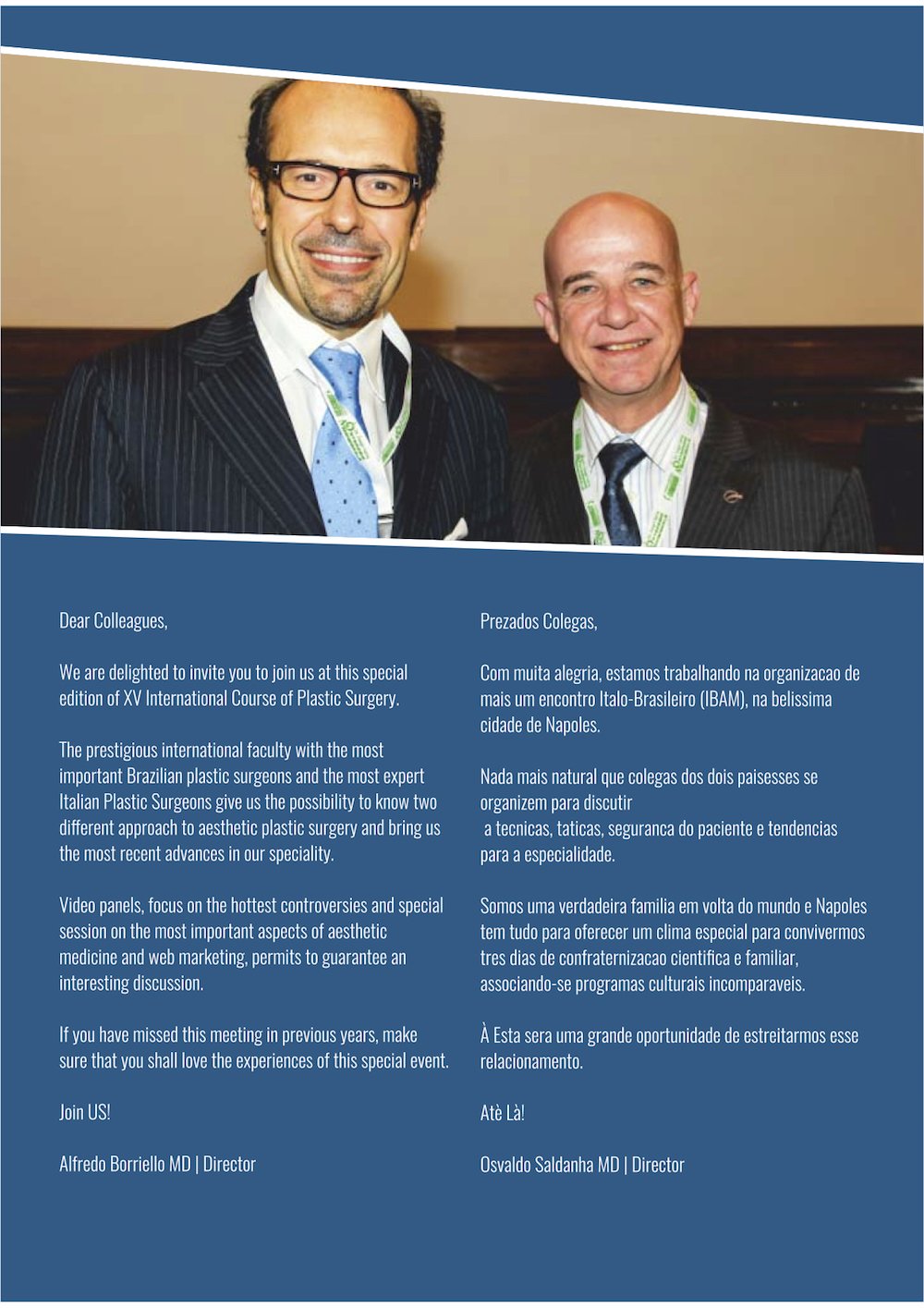 ITALIAN FACULTY
ANDREA ALESSANDRINI | ROMA
VINCENZO ARGENZIO | NAPOLI
EMANUELE BARTOLETTI | ROMA
GIANLUGI BERGAMASCHI MARSELLA | ROMA
GIANFRANCO BERNABEI | MILANO
CLAUDIO BERNARDI | ROMA
PIETRO BERRINO | GENOVA
ALFREDO BORRIELLO | NAPOLI
ALESSIO CAGGIATI | ROMA
GIANLUCA CAMPIGLIO | MILANO
PIERLUIGI CANTA | NAPOLI
MARINO CILIBERTI | NAPOLI
PIER FRANCESCO CIRILLO | ROMA
GABRIELE CRICRI' | ROMA
ROBERTO D'ALESSIO | NAPOLI
FABIO FANTOZZI | ROMA
GIUSEPPE FERRARO | NAPOLI
MARCO GASPAROTTI | ROMA
CARMINE MARTINO | SALERNO
GIANFRANCO NICOLETTI | NAPOLI
ANDREA PACI | ROMA
ARNALDO PAGANELLI | RAVENNA
PIETRO PALMA | MILANO
MICHELE PASCALI | ROMA
MARIO PELLE CERAVOLO | ROMA
PAOLO PERSICHETTI | ROMA
PROF. LUCA PIOVANO | ROMA
AURELIO PORTINCASA | FOGGIA
ADRIANA POZZI | RAVENNA
VINCENZO PUCCI | NAPOLI
FLAVIO SACCOMANNO | ROMA
ALBERTO SCATTOLIN | VENEZIA
GIUSEPPE SITO | NAPOLI
DANIELE SPIRITO | ROMA
GIUSEPPE TORTORIELLO | NAPOLI
ANGELO TRIVISONNO | ROMA
BRAZILIAN FACULTY
RICARDO ABELHA | ES
MARCEL RODRIGUEZ DA CUNHA ARAUJO | SP
ALBERTO MAGNO LOTT CALDEIRA | RJ
JOSÉ ERMÍLIO CURADO | SP
JOSE CARLOS DAHER | DF
BENJAMIN DE SOUZA GOMES FILHO | ES
ANTONIO GRAZIOSI | SP
FARID HAKME | RJ
SERGIO LEVY | RJ
ANDRE MARANHAO | RJ
ROMULO MENE | RJ
NICOLA MENICHELLI | SP
JULIANO PEREIRA | SP
PEDRO PITA | PE
VOLNEY PITOMBO | RJ
CARLOS ROXO DEL PINO | RJ
OSVALDO SALDANHA | RJ
OSVADO FILHO SALDANHA | RJ
INTERNATIONAL FACULTY
Sam Hamra
U.S.A.
Irinia Vasilenho
Russia
Yannis Lyras
Greece
Hebert Lamblet
Portugal
Ali Ghanem
U.K.
SCIENTIFIC COMMITTEE
G. Nicoletti | Na-Italy
R. D'Alessio | Na-Italy
M. Pelle Ceravolo | Roma-Italy
F. Fantozzi | Roma-Italy
F. Saccomanno | Roma-Italy
LOCAL SCIENTIFIC COMMITTEE
V. Guerra | Na-Italy
M. Ippolito | Na-Italy
V. Miniero | Na-Italy
B. Lo Sapio | Na-Italy
R. Nunziata | Na-Italy
PROGRAMMA
13th SEPTEMBER
08.00
Registration
08.30
Welcome And Opening Remarks:
A. Borriello, O. Saldanha
08.45
Panel: Pragmatic Solutions In Blepharoplasty And Upper Face Surgery
Chairman: G. Nicoletti
Moderators: A. Graziosi, R. D'Alessio
Medical And Aesthetic Treatment Of Upper Face
E. Bartoletti
When To Use Fat Removal Or Fat Transposition In Blepharoplasty
A. Graziosi
Fat Injections And Fat Flaps In The Treatment Of Tear Through Deformity
G. Campiglio
Eye Prominence And Negative Vector: Different Diagnosis, Different Treatment
M. Pelle Ceravolo
Lower Lid Retraction After Blepharoplasty: How To Prevent And To Treat
M. Pascali
Different Techniques To Treat Eyelid Malposition
M. Arajuo
Treatment By Fat Of The Difficult Area As Periorbital Region
A. Trivisonno
Correcting The Unfortunate Results Of Facelift And Eyelid Surgery
S.T. Hamra
Discussion
Invited Discussants:
S. Brongo, M. Ciliberti, A. Cuozzo, M. D'Antonio, R. Cerra, G. Di Monta, R. Rauso, A. Stanziola
11.00
Panel: Rhinoplasty
Chairman: V. Pucci
Moderators: P. Palma, V. Pitombo
Keynote Lecture: Rhinoplasty – The Best Approach: Open Or Closed?
V. Pitombo
Short And Drooping Tip: Anterior Crura Rotation Technique
C. Martino
Understanding And Treating Alar-Columellar Discrepancy
P. Palma
Reshaping The New Tip – Dorsum Relationship, How To Avoid Traps
A. Scattolin
Rhinoplasty: Best Aesthetic Results, Preserving Function
J.C. Daher
The Preservation Of The Cartilaginous Dorsum: When And How I Do It
G. Bernabei
Structural Grafts In Secondary Dorsum Rhinoplasty
A. Borriello
Secondary Rhinoplasty
G. Tortoriello
Focus On: Judging A Book By Its Cover; How To Successfully Brand Your Rhinoplasty Practice
I. Vasilenko
Discussion
Invited Discussants:
F. Bevilacqua, F. Ciccarelli, A. Fonzone, R. Grella, S. Mori, A. Nunziata, C. Pellegrini, G. P. Tartaro
13.30
Lunch
14.30
Panel: Evolving Concepts In Abdominoplasty – Body Contouring
Chairman: O. Saldanha
Moderators: C. Roxo, A. Borriello
Keynote Lecture: Lipoabdominoplasty With Redefinition
O. Saldanha
Abdominoplasty: Updating Concepts Of The Pitanguy Technique
F. Mazzarone
Reverse Abdominoplasty
F. Saccomanno
Rectus Diastasis: Uncommon Clinical Findings, Favourable Results, And Related Treatment
A. Caggiati
Body Lift In Massive Weight Loss Patients And Associations
C. Roxo
Male Post Bariatric Surgery: Technical Details
A. Maranhao
Brachioplasty: Classification And Procedures
A. Paci
Discussion
Invited Discussants:
V. Accardo, R. Eccellente, I. La Rusca, M. Moio, G. Noschese, E. Pagnozzi, C. Petroccione, V. Volpe, M. Zamparelli
Open Coffee
Focus on:
Correction Of Surgical Defects With Dermal Substitute
A. Portincasa
NWP In Surgical Dehisccence
M. Ciliberti
17.00
Panel: Innovations In Gluteoplasty And Liposuction
Chairman: G. Ferraro
Moderators: G. Campiglio, A. Paci
Gluteo Increase With Silicone Implants Or Fat Grafts
S. Levy
Gluteoplasty: As It Is
D. Spirito
Gluteoplasty
N. Menichelli
Gluteoplasty: Anatomy, Technical Details And Complications
P. Canta
Autologous Augmentation Gluteoplasty With Dermal Fat Flaps
A. Pozzi
New Technologies In Secondary Body Contouring Surgery
V. Argenzio
Discussion
Invited Discussants:
A. Apolito, G. Fera, J. Grimaldi, V. Guerra, F. Lino, F. Iazzetta, R. Nunziata, S. Smeraglia
19.00
Opening Ceremony
On. Vincenzo De Luca
Presidente Regione Campania
Dott. Mario Forlenza
Direttore Generale ASL NA1
Dott. Pasquale Di Girolamo Faraone
Direttore Sanitario ASL NA1
Dott. Giuseppe Russo
Direttore D.A.O. ASL Na1
Direttore Sanitario Ospedale del Mare ASL NA1
Dott.ss Maria Corvino
Direttore Sanitario P.O. Pellegrini ASL NA1
20.30
Faculty Dinner
–
14th SEPTEMBER
08.30
Panel: Aesthetic Alternatives In Facial Rejuvenation
Chairman: R. Mene
Moderators: A. Portincasa, G. Sito
Jalu-Botox To Optimize Del Face-lift Surgery
PROF. LUCA PIOVANO
Actual Orientations To Use Laser Therapy In Vascular Angioma Of The Face
J. E. Curado
The Frontiers Between Laser And Chemical Peelings
R. Mene
Taming Regenerative Stem Cell Biology Into Office Based Applications: The State Of The Art Technologies
A. Ghanem
Lipofilling: Alternative Or Complementary Surgery To The Face Lift
C. Bernardi
A New Treatment For Submental Fat
P. Cirillo
Face Volumizations: How And When To Perform Hypodermic Or Supraperiosteum Compartmental Surface System, Guidelines
A. Alessandrini
A New Approach For The Lips
G. Sito
Threads: From Bio-stimulation To The Traction
PROF. LUCA PIOVANO
Discussion
Invited Discussants:
B. Castelli, F. De Angelis, G. Di Caprio, P. Forgione, L. Gagliardi, E. Grella, B. Lo Sapio, S. Marlino, S. Scioli, L. Soreca
10.30
Coffee Break
10.45
Panel: What Works In Facial Surgery
Chairman: F. Hakme
Moderators: M. Pelle Ceravolo, J. C. Daher
Keynote Lecture: Harmonious Facial Rejuvenation – The Composite Facelift
S.T. Hamra
Face Lift: Up-To-Date
F. Hakme
SMAS Role In The Correction Of Platisma Flaccidity
F. Saccomanno
Composite Lift: From Hamra To Funk Through Mendelson
D. Spirito
Face Surgery – Techniques Advanced, Less Invasive And Better Results
J. C. Daher
Midface: How To Select The Best SMAS Treatment
M. R. Araujo
Does Midface Lift Still Have Any Role In Aesthetic Surgery
M. Pelle Ceravolo
Cervical Lift With Composite Graft In Nasolabial Fold
P. Pita
Neck Lifting: Clinical Evaluation To Deeper Treatment
A. Graziosi
Trademarks For Buccal Fat Pad Excision
J. Pereira
Discussion
Invited Discussants:
G. Aliberti, A. Amaturo, D. D'Angelo, C. D'Antonio, V. Minieri, S. Langella, D. Riitano, A. Romano, S. Ruiz, S. Serio
13.30
Lunch
14.30
Panel: Clarifying Option For Breast Surgery
Chairman: F. Saccomanno
Moderators: P. Berrino, B. Gomes
Breast Augmentation: From Dreams To Nightmares For The Patients And The Surgeon
P. Berrino
Mastopexy With Implants: Conflicting Needs And Design Methodologies
R. D'Alessio
Mastopexy With Implants
B. Gomes
Common Mistakes In Periareolar Mastopexy
M. Pelle Ceravolo
The Tight Inframammary Crease: Apparently Easy Patients Can Become Difficult
P. Berrino
Mammoplasty And Mastopexy In Massive Weight Loss Patients
C. Del Pino Roxo
Mastopexy And Autologous Breast Augmentation In Patients With Massive Weight Loss
P. Persichetti
The Hardest Challenge: Secondary Augmentation Mastopexy
G. Campiglio
BIA-ALCL (Breast Implant-Associated Anaplastic Large Cell Lymphoma)
Up-To-Date
R. Abelha
Breast Reconstruction With Reverse Abdominoplasty
O. Saldanha Filho
Discussion
Invited Discussants:
G. Capone, A. Cappelli, M. Gioia, M. Ippolito, G. Pitruzella, S. Rosso, A. Rotondo, A. Santorelli, M. Saturno
Open Coffee
17.00
Video Session
Chairman: M. Pelle Ceravolo
Moderators: A. Gubitosi, A. Borriello
Closed Rhinoplasty
P. Palma
Rhinoplasty
V. Pitombo
The Role Of Supratip Break On Gender Rhinoplasty
P. Persichetti
Face Lift
S.T. Hamra
Neck Lift
M. Pelle Ceravolo
Reduction Mastoplasty With Implants
O. Saldanha
Post Bariatric Surgery
C. Roxo
Augmentation Mastoplasty
F. Saccomanno
Otoplasty
G. Cricri
18.30
Panel: Meeting Ex Alumnos do Professor Ivo Pintanguy
President: P. Persichetti, M. Pelle Ceravolo
Moderators: F. Fantozzi, F. Mazzarone
Breast Augmentation: Corporative Techniques
A. Paganelli
Triple Plane Holistic Breast Augmentation And Body Reshaping: Personal Approach Using Breast Implants And Adipose Tissue, Ten Years Follow Up
Y. Lyras
Fat Transfer In Breast Regenerative Surgery
A. Magno Lott Caldeira
Anthropometry Of The Torso
F. Fantozzi
Gluteoplasty: How Effective Is It For Good Outcomes
G. Bergamaschi
Autologous Fat Grafting Preserving ADC Cells For Gluteal Augmentation: BBL
H. Lamblet
19.45
Closing Remarks – Adjourn
21.00
Gala Dinner
TOPICS
Facial and Neck Rejuvenation
Eyelid and Periorbital Surgery
Rhinoplasty
Aesthetic Breast Surgery
Body Contouring
Gluteoplasty
Nonsurgical Cosmetic Procedures
Video Sessions
---
IBAM _2018: 6 GOOD REASONS
_1. NETWORKING_
Ibam2018 is a great opportunity to meet and compare with the best
international plastic surgeons (you can see the faculty list HERE [1]).
_2. VERY SPECIAL GUEST_
Dr. Hamra, one of the most famous plastic surgeon of the world and a
pioneer in Facelift Surgery.
He's credited with the "composite facelift" with arms marginales release
and septal reset procedure.
_3. KEYNOTE PRESENTATIONS._
Famous and experts italian and brazilian surgeons permits to know the
philosophy and techniques developed over many years.
_4. SCIENTIFIC PROGRAM._
The scientific program with videopanels, focus on the hottest
controversies and special sessions will explore different methods to
treat the face and body comparing various procedures, results, healing
and longevity.
_5. CREDITS_
16 CREDITS E.C.M. will be assigned to all the participants of the
congress.
Essential training to renew, update or increase your baggage of
theoretical and practical skills.
_6. A UNIQUE SETTING IN THE WORLD_
Naples is raw, high-octane energy, a place of soul-stirring art and
panoramas, spontaneous conversations, inimitable