World Experts Meeting 2018 | 19.10.18 Barcelona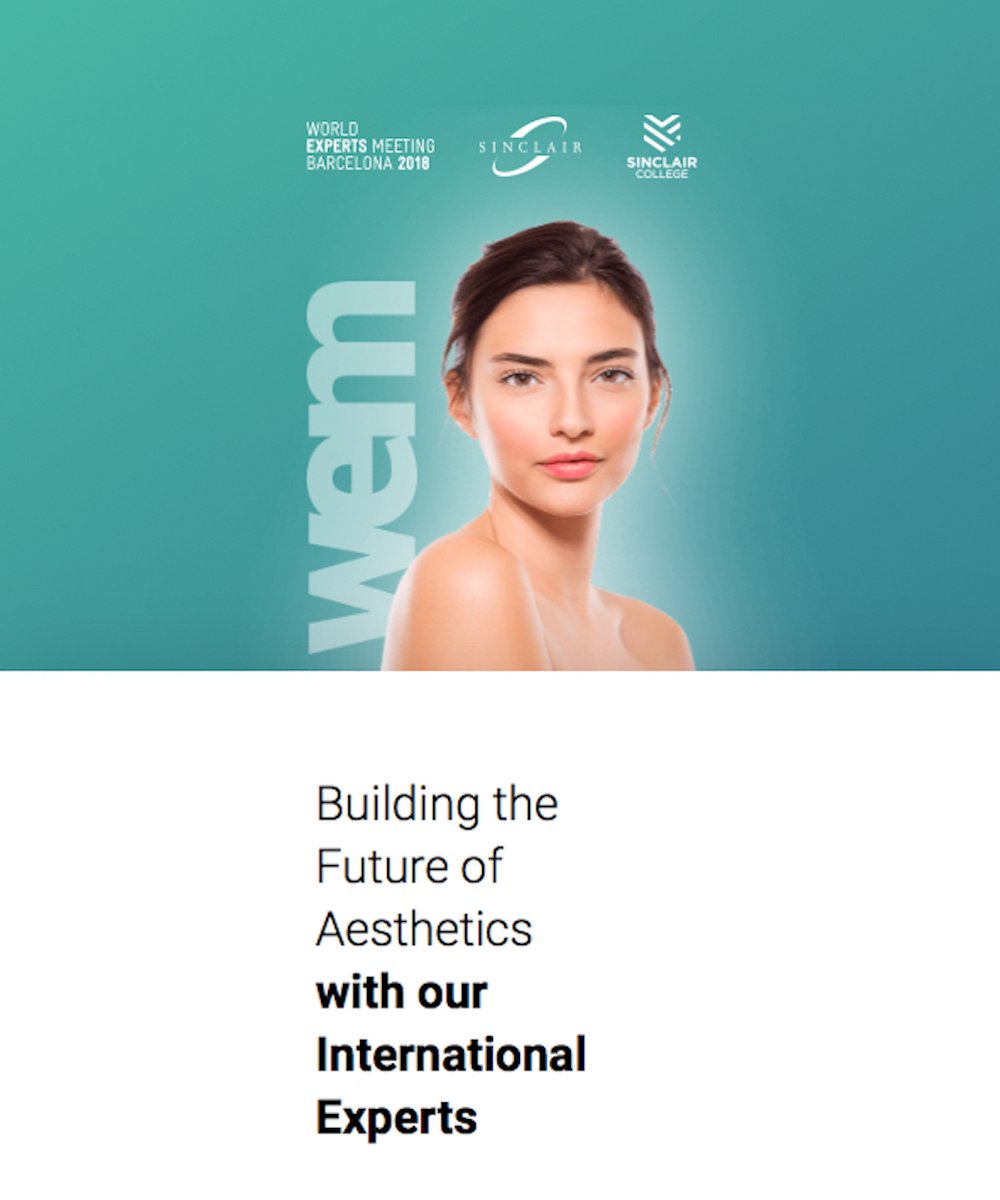 WORLD EXPERTS MEETING 2018
19 and 20 OCTOBER, 2018
PALAU DE CONGRESSOS DE CATALUNYA – BARCELONA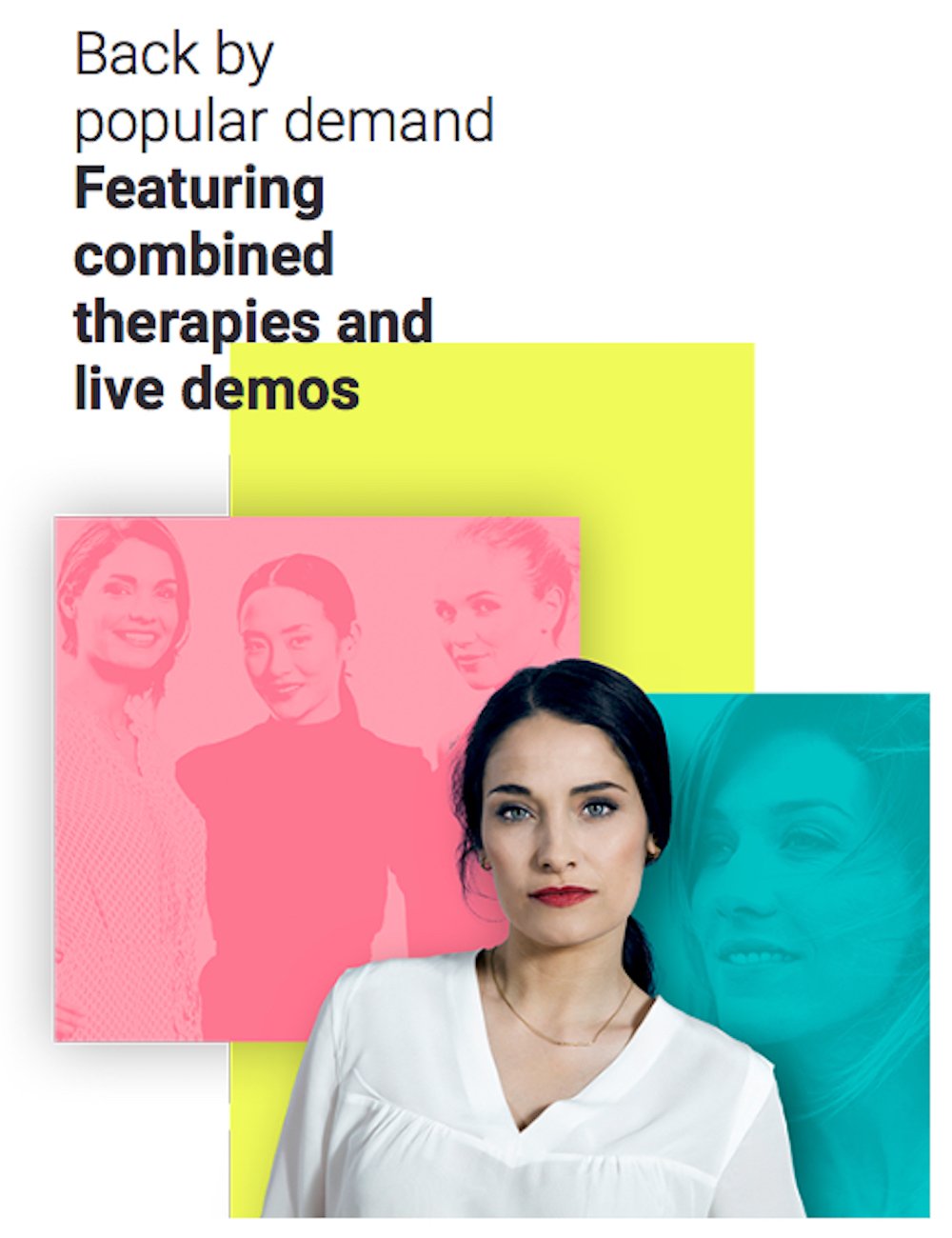 ABOUT THE EVENT
The Sinclair College is proud to present the World Experts Meeting that will be hosted on the 19th and 20th of October in Barcelona.
Two days filled with vast amounts of knowledge for you to stay informed with all the latest news, share experience and create valuable connections. Key opinion leaders from around the world, who are dedicated to developing new approaches in the field of aesthetic medicine, come together to demonstrate facial-rejuvenation procedures using re-absorbable sutures with cones, collagen stimluator, hyaluronic acid whilst also presenting their own experience combining treatments.
Furthermore, advanced live demonstration cases will be shown during the two days with varying level of difficulty, performed by a number of different world experts.
This important event is organized under the joint patronage of the Instituto de Benito and Sinclair College.
PROGRAMME
This year the WEM programme has been brought to you with the intention of providing a wealth of different treatment techniques. We will dedicate the necessary time to share key insights and explanations of the products and techniques to treat specific areas. The upper, middle and lower face treatments will be discussed as well as profile, lips, neck and hand treatments.
Back by popular demand, we will be live demonstrating treatments on patients with different indications for the same area but also for full facial rejuvenation, utilising re-absorbable sutures with cones, collagen stimulators and hyaluronic acid products.
We will be featuring 48 session-leaders, specialists in their respective fields, along with an international array of guest speakers, with whom we collaborate with for training and the presentation of courses via our interactive systems.
MEET THE INTERNATIONAL PANEL OF EXPERTS FOR WEM BARCELONA 2018
We are bringing together internationally renowned professionals to share their experiences and scientific knowledge
Javier de Benito, MD
WEM Moderator, Spain
Maximo A Evia Arceo, MD
Aesthetic Doctor, Spain
Gabriel Aribi, MD
Dermatologist, Brazil
Benjamin Ascher, MD
Plastic Surgeon, France
Kathryn Taylor Barnes, MD
Aesthetic Doctor, United Kingdom
Ghislaine Beilin, MD
Aesthetic Doctor, France
Beatriz Beltrán, MD
Aesthetic Doctor, Spain
Edgar Jair B. Carranco, MD
Aesthetic Doctor, Mexico
Alieksiéi Carrijo, MD
Plastic Surgeon, Brazil
Ho Sung Choi, MD
Aesthetic Doctor, Korea
Marie-Odile Christen
Scientific Advisor, France
Ercan Cihandide, MD
Plastic Surgeon, Turkey
Timothy Eldridge, BDS
Dental Surgeon, United Kingdom
Iñigo de Felipe, MD
Dermatologist, Spain
Gerd Gauglitz, MD, PhD, MMS
Dermatologist, Germany
Massimo Gianfermo, MD
Plastic Surgeon, France
Antonio Graziosi, MD
Plastic Surgeon, Brazil
María del Mar Guerra, MD
Aesthetic Physician, Mexico
Rami Haidar, MD
Maxillofacial Surgeon, Kingdom of Saudi Arabia
Simón Harker, MD
Plastic Surgeon, Columbia
Kyungkook Hong, MD
Dermatologist, South Korea
Bernardo Hontanilla, MD
Plastic Surgeon, Spain
JongSeo Kim, MD
Plastic Surgeon, South Korea
Malavika Kohli, MD
Dermatologist, India
Shang-Li Lin, MD
Dermatologist, Taiwan
Ingrid Lopez, MD
Dermatologist, Mexico
Z Paul Lorenc, MD
Plastic Surgeon, United States
Sébastien Malaise
Perfectha R&D Manager, FR
Victoria Manning, MD
Aesthetic Doctor, United Kingdom
Alistair McAlpine, MD
Aesthetic Doctor, Republic of South Africa
John Meadows, PhD
Head of development in Sinclair, UK
Francisco de Melo, MD
Plastic Surgeon, Portugal
Ali Mojallal, MD
Plastic Surgeon, France
Pierre Nicolau, MD
Plastic Surgeon, Spain
Peter Peng, MD
Dermatologist, Taiwan
LUCA PIOVANO, MD
Plastic Surgeon, Italy
Flávio Rezende, MD
Plastic Surgeon, Brazil
Rosalba Russo, MD
Surgeon, Italy
Aydin Saray, MD
Plastic Surgeon, Turkey
Francisco Tribulato, MD
Plastic Surgeon, Brazil
Franco Vercesi, MD
Plastic Surgeon, Italy
Arnold Young, MD
Aesthetic Doctor, Hong Kong
Sabine Zenker, MD
Dermatologist, Germany
Saleena Zimri, MD
Dermatologist, United Kingdom