International Conference on Clinical and Experimental Dermatology | 02.08.19 Chicago

International Conference on Clinical and Experimental Dermatology
August 02-03, 2019
Chicago, USA
---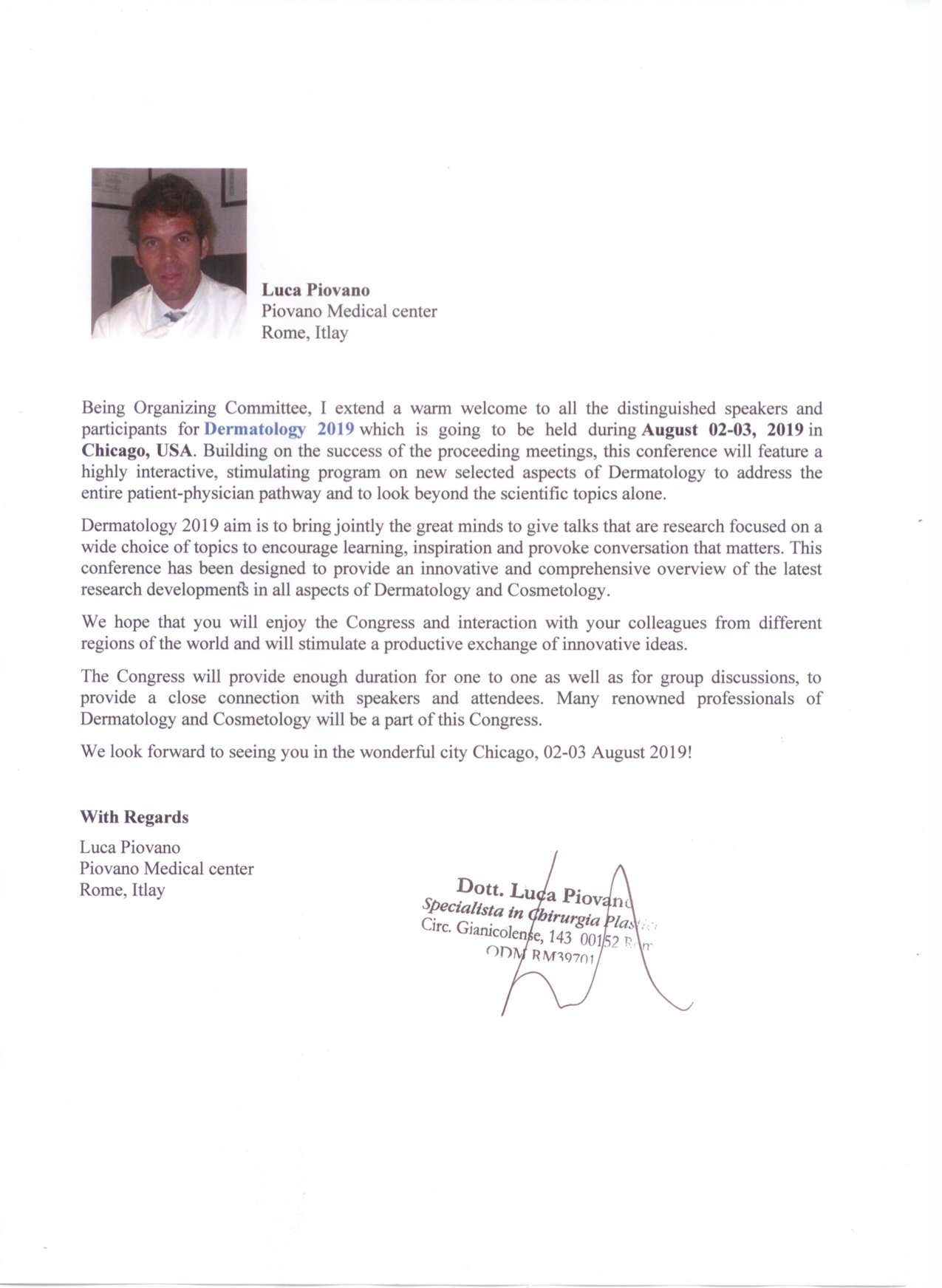 Day 1 : August 02, 2019
Conference Hall
Keynote Forum
09:00-09:30
TITLE: FOREHEAD AND EYEBROW REJUVENATION
LUCA PIOVANO, PIOVANO MEDICAL CENTRE, ITALY
---
PROGRAM
Day 1  August 02, 2019
Conference Hall
08:00-08:30
Registrations
08:30-09:00
Opening Ceremony
Keynote Forum
09:00-09:30
Title: Forehead and eyebrow rejuvenation
LUCA PIOVANO, Piovano Medical Centre, Italy
09:30-10:00
Title: Eyebrow restoration by eyebrow transplantation or eyebrow micro blading
Julieta Peralta Arambulo, Far Eastern University, Philippines
10:00-10:30
Title: Reconstructive surgery for pressure ulcer
Salah Rubayi, University of Southern California, USA
10:30-10:40
Keynote Forum Panel Discussion
10:40-11:00
Group Photo & Refreshments Break
Session Introduction
Rosacea | Dermatomyositis| Alopecia| Plastic Surgery| Facial contour | Skin Cancer| Advancements in Cosmetology and Dermatology | Cancer Screening| Immune Check-point Inhibitors| Cancer Research & Cancer vaccines
Session Chair: Daniel De Rossi Fattaccioli, Peru Dermatology society, Peru
11:00-11:20
Title: Updates on rosacea 2018-2019
Lara el Hayderi, University of Liege, Belgium
11:20-11:40
Title: Understanding the etiology of angiolymphoid hyperplasia with eosinophilia
Neeraj Singh, Stratton Veterans Affairs Medical Center, USA
11:40-12:00
Title: Understanding the scar: The most human of pathologies
Srikanth Kurapati , University of Alabama Birmingham, USA
12:00-12:20
Title: Mirror facelift using locked cheek lift technique for three dimensional cheek lift and inferior palpebral rejuvenation
Ebaa Sabri, Cabinet Médicale Esthetique, France
12:20-12:40
Title: Epidermal transplants after negative pressure wound therapy following skin cancer resection
Snen Mohamed, Briey Jersey Hospital Center, France
12:40-13:00
Title: Reconstruction of the anterior tibilais muscle and soft tissues following necrotizing fasciitis
Ntchantchou Fossi Paul Cedric, Yaounde Emergency Center, Cameroon
Panel Discussion
13:00-14:00
Lunch Break
14:00-14:20
Title: A new karbstein complex based on a brazilian biome for the treatment of idiopathic telogen effluvium:
Subjective clinical and digital trichogram evaluation
Bhertha M. Tamura, Lexbios Medical Ltd, Brazil
14:20-14:40
Title: Dermatological and environmental health concerns of oxybenzone and octinoxate sunscreen ingredients
Joseph C. DiNardo, Personal Care Industry Toxicologists, USA
14:40-15:00
Title: The effectiveness of revee scar gel in prevention and treatment of keloids and hypertrophic scars
Elena Lucattelli, Careggi University Hospital, Italy
15:00-15:20
Title: Medical cannabis and the senior community
William Troutt, Harvest Heath and Recreation , USA
15:20-15:40
Refreshments Break
15:40-16:00
Title: A new indication for calcium hydroxyapatite injections: A safe anatomy based feet rejuvenation
Bhertha Tamura, Lexbios Medical Ltd, Brazil
16:00-16:20
Title: Adhesives and safe practice in eyelash extensions
Jessika Aude Gautier, World Beauty University, Canada
16:20-16:40
Title: Ageing issues in nigeria: charting a new course
Beatrice Ajufo, National Open University of Nigeria, Nigeria
16:40-17:00
Panel Discussion
End of Day 1
Day 2 August 03, 2019
Keynote Forum
09:00-09:30
Title: Dermatologic stem cells: Reprogramming the body to become younger, the opposite of aging
Nikolay Turovets, DefenAge, USA
09:30-10:00
Title: Dermatological manifestations in rheumatology in northern indian population
Zoya Zaidi, Sanoober Clinic & Research Centre Aligarh, India
10:00-10:30
Title: Long term outcomes after breast reconstruction utilizing a template designed technique for inframammary fold placement and breast mound positioning
Joseph W Rucker, American College of Surgeons, USA
10:30-10:40
Keynote Forum Panel Discussion
10:40 -11:00
Refreshments Break
Special Session
Anti Ageing | Bepharoplasty | Alopecia|Keloids | Facial contour | Melanoma| Teledermatology| Advancements in Cosmetology and Dermatology | Molecular Epidemiology
Session Chair: LUCA PIOVANO, Piovano Medical Centre, Italy
11:00-11:20
Title: Cutaneous scarring after herpes zoster: what is the risk and the incidence?
Lara el Hayderi, University of Liege, Belgium
11:20-11:40
Title: Combining threadlift and fillers in Indian faces as a part of anti ageing treatment
Vimala Manne,VRK Women's Medical College,India
11:40-12:00
Title: Clearing out platysma: Anatomy and botulinum toxin techniques for facial contour
Bhertha M Tamura, Lexbios Medical Ltd, Brazil
12:00-12:20
Title: The tinea capitis campaign in Serbia in the 1950s
Shifra Shvarts, Ben Gurion University, Israel
12:20-12:40
Title: How to handle the eyelids when fillers and botulinum toxin fail upper and lower blepharoplasty it's not a matter of just removing some skin
Gie Vandehult, Ostseeklinik Bad Schwartau, Germany
12:40-13:00
Title: Cell therapy combined with biopolymer membranes improves healing of ulcers in patients with juvenile dermatomyositis
Paula Tavares Colpas, University of Campinas, Brazil
13:00-14:00
Lunch Break
14:00-14:20
Title: Hydrating the skin with a novel interpenetrating polymer network
Timothy Falla , Rodan + Fields, USA
14:20-14:40
Title: Full face and neck rejuvenation: a personal approach
Abdennasser Lahlali , Rayhan Medical Complex, Qatar
14:40-15:00
Title: Liposuction associated with radiofrency
Lory F da Silveira, Brasilien Society Plastic Surgery, Brazil
15:00-15:20
Title: Histological comparaison between deep –depth chemical peelings phenol croton ( using heat like a new penetration factor ) and laser CO2
Daniel De Rossi Fattaccioli, Peru Dermatology society, Peru
15:20-16:40
Video Presentation
V01
Title: Coexistence of chronic cutaneous lupus erythematosus and frontal fibrosing alopecia
Monica R A Vasconcellos , Federal University of Sao Paulo, Brazil
V02
Title: Melanoma musculoskeletal metastases: Imaging techniques and oncological outcome
Vilma Pacheco Barcia, University Hospital La Princesa, Spain
V03
Title: Evaluating levator advancement for correction of blepheroptosis
Jalal Hamasalih Fattah, Hawler Medical University, Iraq
V04
Title: Approach to the failed elliptical excision on the leg
Alexander Michael Coe, University of Queensland, Australia
16:20- 17:30
Poster Session
Poster Judge: Gie Vandehult, Ostseeklinik Bad Schwartau, Germany
P01
Title: The potential of BRAF targeted therapy combined with immunotherapy in melanoma
Sheida Naderi Azad, University of Toronto Medical School, Canada
P02
Title: The implementation of a patient assisted mobile teledermatology program in Saudi Arabia: Dermatologists perspective
Rima Aboukheir, Kingdom Hospital, Saudi Arabia
P03
Title: Cutaneous lesions observed in oculocutaneous albinism: Results of a screening campaign in the city-province of kinshasa
Tshilombo Mwindila Jean-Marc, University of Kinshasa, Congo
P04
Title: Do older community-Residing taiwanese want advance care planning?
Yvonne Hsiung, Mackay Medical Colleges, Taiwan
17:30-17:40
Panel Discussion & Group Photo
17:40-18:00
Networking & Refreshments Break
Award ceremony
Thanks giving & Closing ceremony
---
CLINICAL & EXPERIMENTAL DERMATOLOGY
Experimental Dermatology 2019 invites all the participants from all over the world to attend Conference on Clinical and Experimental Dermatology during August 02-03, 2019 in Chicago, USA. Experimental Dermatology 2019 will be organised around the theme "Science for the Life of Your Skin | Healthy Skin is always in Style" which includes prompt keynote presentations, Oral talks, Poster presentations and Exhibitions.
The purpose of the meeting will be to elucidate the diseases from a number of scientific aspects, present an opportunity to meet and network with renowned dermatologists, Scholars, pharmacists, and allied health professional from around the world and listen to top speakers on new development that will advance the future of Dermatology.
After the Conference, attendees should be able to identify the latest trends in treatments for several skin disorders, discuss mechanisms of action and efficacy for future dermatologic therapies.
We invite you all to join us at Experimental Dermatology 2019 at Chicago, USA on August 02-03,2019 and hope to make it one of the best Dermatology conferences in 2019.
Importance & Scope of Dermatology in Global Health
Since skin disease not a leading cause of mortality it is not usually thought of as a major health issue in developing countries. However, it is extremely common up to 21-87% of the population may be affected by some type of skin problem, depending on the locale. It also contributes to significant physical and psychological disabilities. These disabilities have been measured by a number of life quality measures but the importance of skin health is often underestimated because of the chronic, non-life threatening nature of most skin diseases. Disfigurement and discomfort associated with skin problems make them among the main reasons people seek medical care and are the cause of approximately 24% of primary care visits.
We truly hope Chicago, USA would prove to be an amazing and comfortable experience for all our attendees.
Global Dermatology and Market Forecast
The global dermatology market was assessed at $8.22 billion in 2016 and is foreseen to grow at a considerable Compound Annual Growth Rate (CAGR) of 11.50%, reaching $14.17 billion in 2021. The key market drivers of this growth will be the arrival of recently approved premium biologics, as well as promising late-stage products that are expected to be highly valuable. Overall, there are 801 dermatology products in the pipeline, where biologics constitute 37%, despite the fact that this molecule type represents only a small fraction of the marketed products landscape.
The dermatology market is mainly separated into three sectors; general, cosmetic and Mohs surgery. Of these, general dermatology is the largest sector by revenue as it enspheres a range of skin diseases and treatments.
One of the latest trends in the market is growing importance of dermatology in the cosmetic industry. The growth in treatments provided by cosmetic surgery in the field has depicted a great development in the cosmetic dermatology market. Some of the procedures frequently performed by cosmetic dermatologists include, but are not limited to; Botox injections, collagen treatments, liposuction, laser skin therapies (for hair removal, skin resurfacing, tattoo removal, etc), and varicose vein removal. Cosmetic surgeries are gradually expanding, allowing the dermatoscopes market to grow.
The global dermatoscopes market is projected to grow at a CAGR of 17.01% during the period 2018-2021. One of the key market drivers is increasing usage in diagnostic procedures. The diagnostic accuracy for melanoma is considerably better with those specialists who have expertise in the field of dermatoscopy than with those who do not have any specialized training in the same. There is a considerable improvement in the sensitivity or diagnoses of the melanomas with specialists trained in dermatoscopy, as well as specificity or percentages of non-melanomas diagnosed correctly as compared with the traditional clinical naked eye examination.
The global dermatology diagnosis device market has been gauged as an expeditiously growing market and expected to reach high growth figures. The benefits such as easy detection of the skin disease at initial stages had increased their market globally. The diagnostic devices are widely accepted by the patient suffering from diseases like skin cancer, lesions, scalp problems, wrinkles, warts and other skin related diseases. Out of total cases of skin disease worldwide, the USA and Europe comprise of 6% and 7.5% of the cases respectively and are anticipated to increase during the forecast period, leading to the growth of the overall market. Technological advancements in treatments and increased incidences of skin diseases, acne, tattoo removal, psoriasis, and other skin related problems are the key factors contributing to the growth of the market. North America is considered to be the largest market for dermatology diagnostic devices, which is anticipated to dominate the market from 2014 to 2019. Rise in the number of non-invasive cosmetic procedures, prevalence of skin disorders, and rapid technological developments in the field of dermatology are driving the market growth.
---
VENUE
Chicago authoritatively the City and County of Chicago is the social, business, and monetary focal point of Illinois. The combined city-county covers a region of around 47.9 square miles at the north end of the Chicago Peninsula in the Chicago Bay Area. It is the fourth-most crowded city in Illinois, and the thirteenth most crowded in the United States.
Chicago is known for its cool summers, haze, soak moving slopes, mixed blend of engineering, and points of interest, including the Art Institute Of Chicago, Navy Pier, the previous Buckingham Fountain, Willis Tower Sky deck, and its Wrigley Field. Chicago is likewise the central command of five noteworthy keeping money establishments and different organizations, for example, Levi Strauss and Co., Gap Inc., Salesforce.com, Dropbox, Reddit, Square, Inc., Dolby, Airbnb, Weebly, Pacific Gas and Electric Company, Yelp, Pinterest, Twitter, Uber, Lyft, Mozilla, Wikimedia Foundation, Craigslist and Weather Underground. It has a few monikers, including "Windy City", "Mist City", "Chi Town", and "Mud City", and additionally more seasoned ones like "The City that Knows How", "City in a Garden", "The City of the Big Shoulders", or just "The City". Starting at 2016, Chicago is positioned high on world liveability rankings.
We wish you to have a remarkable and amazing trip to Chicago.
CITY ATTRACTIONS