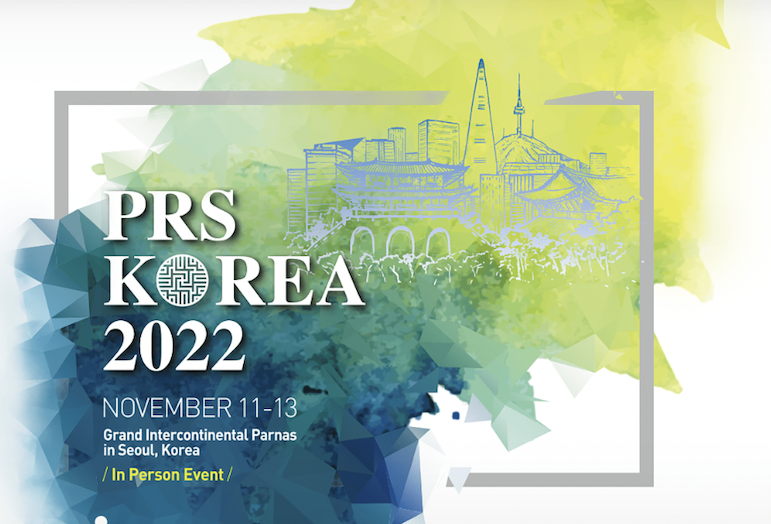 PRS Korea 2022

Humanity, Beyond Technology

November 11-13 2022
Grand Intercontinental Parnas in Seoul, Korea
In Person Event
---
Main Speakers
David H. Song
MedStar Georgetown
University Hospital
USA
Steve R. Cohen
FACES+Plastic Surgery,
Skin and Laser Center
USA
Phillip Blondeel
Gent University
Hospital
Belgium
Invited Speakers
LUCA PIOVANO
Chirurgo Plastico
Roma
Italy
Giorgio Pietramaggiori
Global Medical Institute Lausanne
Switzerland
Vani Prasad
The Australian Craniofacial Unit
Australia
Harikrishna Ragavan Nair
Hospital Kuala Lumpur
Malaysia
Saja Scherer
Global Medical Institute Lausanne
Switzerland
Winnie Tong
Kaiser Permanente
Medical Center
USA
Sugawara Yasushi
Lilla Craniofacial Clinic
Japan
Apirag Chuangsuwanich
Mahidol University Hospital
Thailand
Susana Heredero
Hospital Universitario Reina Sofia
Spain
Emeka F.M. Nkenke
Medical of Vienna Univ.
Austria
---
Welcome Message
Dear Colleagues and KSPRS Members,
The Korean Society of Plastic and Reconstructive Surgeons would like to welcome our colleagues and friends from all over the world to PRS Korea 2022, held in Seoul, Korea, from November 11th to 13th. We are delighted and extremely excited to host this years event in person for the first time in three years. The pandemic has taken a toll on everyone, regardless of where we are located, and PRS KOREA 2022 will be a great break for everyone to meet in person.
The goal of PRS KOREA 2022 is to improve our Knowledge through discussion, expand collaborative efforts through networking, and enjoy each other's presence. This three-day conference will provide numerous presentations for both novice surgeons and experts. We will have worldwide experts delivering talks on a multitude of topics. The Songbaek lecture will be presented by Dr. David Song of Georgetown, a keynote by Dr. Phillip Blondeel of University Hospital Gent, Belgium, and an invited talk by Dr. Steve Cohen of University of California San Diego.
We look forward to an intellectually stimulating and exciting conference, and we would like you to join us.
Thank you in advance for your support, and we hope to meet everyone in person this November in Seoul.
Rong-Min Baek, M.D., Ph.D
Chairman of General Assembly of Korean Society of Plastic and Reconstructive Surgeons
---
Dear Friends throughout the World,
I am delighted to host the PRS KOREA, the annual meeting of the Korean Society of Plastic and Reconstructive Surgeons (KSPRS). Ever since a domestic KSPRS conference developed into an international meeting in 2011, PRS KOREA became one of the largest annual plastic surgery conferences in Asia. At the last PRS KOREA 2021, despite the COVID-19 pandemic crisis, a total of 1300 participants including 150 foreigners participated and engaged in passionate discussion.
Leaving the past COVID-19 crisis behind, we are now in the process of regaining our daily lives. In this year, PRS KOREA 2022 will be held as a face-to face meeting. As it is an onsite conference to be held after a long time, we will prepare the conference more carefully and put the safety of participants first to provide an academic venue that can be beneficial and helpful to everyone.
We have again managed to invite over 50 international guest speakers including David Song, a chief of Surgery at MedStar Health/Gerogetown University, Phillip Blondeel, the 2022 President of the European Association of Plastic Surgeons (EURAPS), and Steve R. Cohen, a clinical professor of plastic surgery at University of California. Along with these exceptional guest speakers, many acclaimed Korean speakers will also discuss various subjects on aesthetic and reconstructive surgery, and the will give us an opportunity for meaningful and productive deliveration.
We expect PRS KOREA 2022 to offer a place of exchange and harmony where we can share first-class scientific programs and present cutting-edge research and practices.
It will allow us to take a step toward a better future.
PRS KOREA 2022 meeting awaits you to be a part of the new beginning.
Please, come and join us! Thank you.
Eul Sik Yoon, M.D., Ph.D
President of Korean Society of Plastic and Reconstructive Surgeons
---
Hosted By
Korean Society of Plastic and Reconstructive Surgeons
Sponsors

---
Program at a Glance